Thermofoil vacuum press [VPF-2-2600/3000]
Vacuum thermo foil press VPF-2-2600/3000 is designed for 3D coating of PVC foil, also can be used as simple membrane press.
Vacuum press is fully automated and has three operating modes:
The automatic mode - a series of pressing passes automatically according to the predetermined settings. The whole process is monitored by PLC controller.
The manual mode - the whole cycle of compression is monitored by operator.
The membrane mode is designed to work with a membrane vacuum press, which can be used as a common membrane press. Press is equipped with a silicone or a rubber membrane.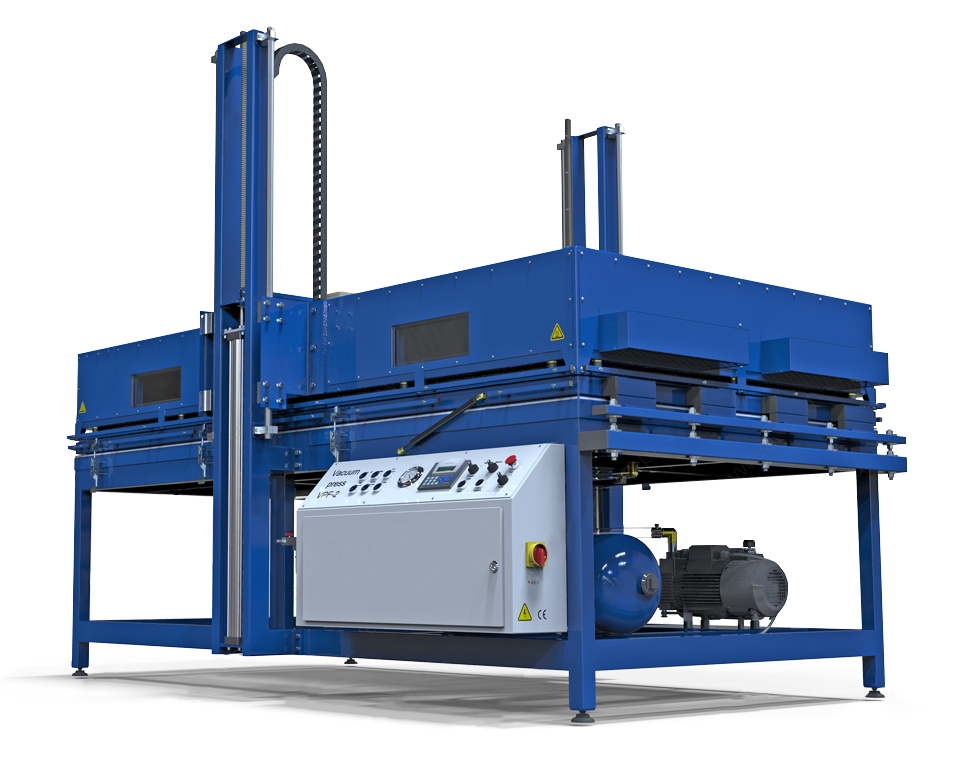 Area of applications

Veneering and laminating
Veneering and laminating of flat and curved surfaces.

Coating of simple profiles
Coating of simple profiles of veneer, leather, paper and plastic.

Wood bending
Gluing of 2D curved parts. Using multi layered method.

3D Coating
Coating of PVC foil. Production of kitchen doors and 3D panels.
Details
Construction
The sturdy welded construction.
Heating system
Heating system with maximal temperature till 140C.
Three independent zones of heating.
Carbon heater. Pneumatic actuator of upper cover of heating system.
Vacuum system
Oil vacuum pump with capacity 40m3/h.
Pressure tank 100l.
Control
PLC control with three modes.
Membrane
Silicone membrane.
Technical data
| Description | VPF-2-2600 | VPF-2-3000 |
| --- | --- | --- |
| Working table size, (length х width) , mm: | 2600 х 1400 | 3000 х 1400 |
| Heating temperature, max C: | 140 | 140 |
| Heater capacity, kW: | 24 | 24 |
| Worker pressure pneumatic system, bar : | 6 | 6 |
| Operating mode: | manual / automatic | manual / automatic |
| Pump capacity, kW: | 1,5 | 1,5 |
| Vacuum pump output , m3/h: | 40 | 40 |
| Operational vacuum, kg/сm2 (bar): | - 0,9 | - 0,9 |
| Protection level: | IP53 | IP53 |
| Noise level, Db: | <70 | <70 |
| Power, V: | 3P 400 50Hz | 3P 400 50Hz |
| Outline dimensions, (length x width x height): | 2700 x 1700 x 2200 | 3100 x 1750 x 2200 |
| Weight, kg: | 850 | 950 |