Membrane vacuum press [VPR-3000]
The VPR is a cold membrane vacuum press is designed for woodworking and furniture production. Membrane press is equipped with rotary work-table, which saves production space and allow use it in small workshops.
The vacuum press can be supplied in two ways: as fully equipped vacuum press VPR-3000/25 or VPR-3000/40 and as vacuum table VPR-3000T (without vacuum system).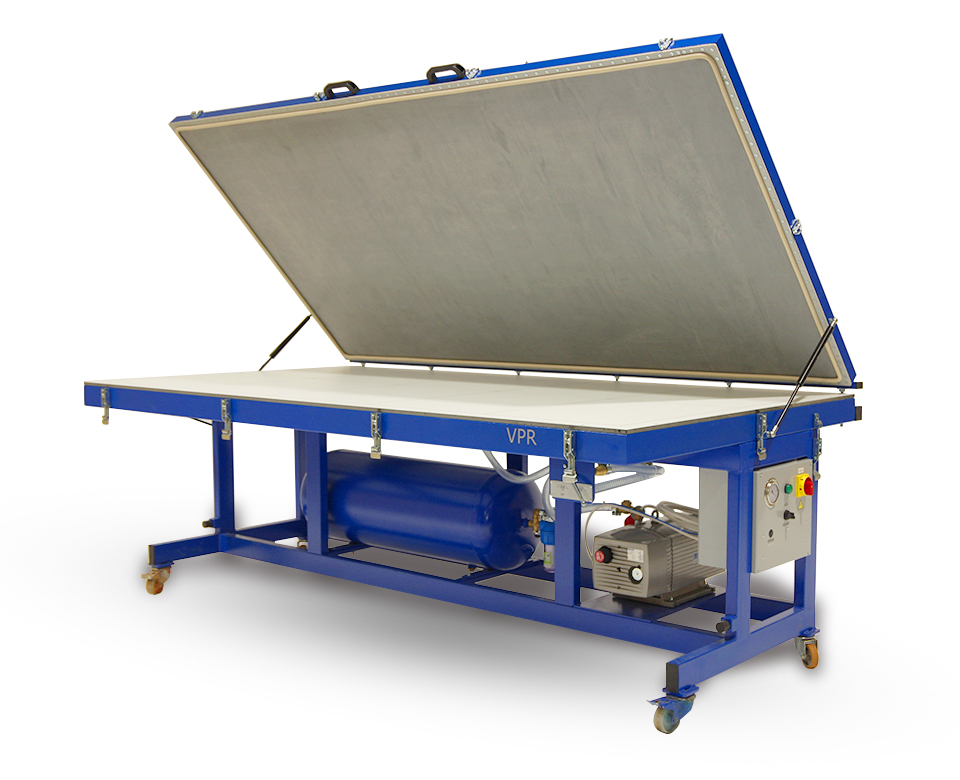 Area of applications

Veneering and laminating
Veneering and laminating of flat and curved surfaces.

Coating of simple profiles
Coating of simple profiles of veneer, leather, paper and plastic.

Wood bending
Gluing of 2D curved parts. Using multi layered method.

2D & 3D shaping
Shaping of solid surface materials (perhaps complete with a silicone membrane).
Construction
Welded frame with rotary work table and wheels to moving.
Working surface from 12mm HPL board.
Membrane
High quality natural rubber membrane with an elasticity factor of 700%.
Optional: Silicone membrane ,elasticity till 700%, maximal temperature till 240C, thickness 2, 3, 4mm.
Vacuum system
Surface of work table with built in vacuum channels.
BECKER oil free vacuum pump. Pressure tank 100l. Air filter.
System of vacuum control and automatic pump stop.
Control
Two position operating valve on main frame.
Vacuum meter. Vacuum level relay. Turn On switch
Technical data
Descriptions
VPR-3000/25
VPR-3000/40
VPR-3000T
Working table dimensions, (length х width) , mm
2850 х 1150
(2850 x 1350) optional
2850 х 1150
(2850 x 1350) optional
2850 х 1150
(2850 x 1350) optional
Pump capacity, kW:
0,75
1,25
-
Vacuum pump output , m3/h:
25
40
-
Operational vacuum, kg/сm2 (bar):
- 0,85
- 0,85
-
Protection level:
IP53
IP53
-
Noise level, Db:
<70
<70
-
Power, V:
3Ph 400V 50Hz
3Ph 400V 50Hz
-
Outline dimensions, (length x width x height), mm:
3100 x 1350 x 1000
(3100 x 1650 x 1000) optional
3100 x 1350 x 1000
(3100 x 1650 x 1000) optional
3100 x 1350 x 1000
(3100 x 1650 x 1000) optional
Weight, kg:
350
365
285