Natural rubber membrane [42 Shore A red]
Natural rubber membranes - is a high quality, red, vulcanized natural rubber sheet for all types of vacuum membrane presses with working temperature till 120°C.
Area of application
Natural rubber membranes has been specially developed for use in membrane presses in the wood industry. It is particularly suited for hot bonding PVC sheet to chipboard. The membranes have an exceptionally long service life due to their outstanding heat resistance. Can be used for foil and veneer vacuum pressing up to 120 °C.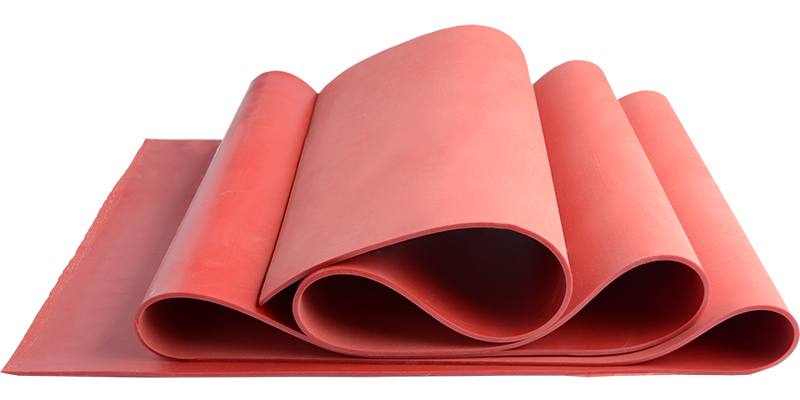 Technical data
| Type | NR42R-2.0-1700 | NR42R-2.5-1700 | NR42R-2.5-1700 | NR42R-2.5-1700 |
| --- | --- | --- | --- | --- |
| Thickness, mm: | 2 | 2.5 | 3 | 4 |
| Width, mm: | 1600 | 1600 | 1600 | 1600 |
| Length, m: | roll till 15 | roll till 15 | roll till 15 | roll till 15 |
| Working temperature, max C: | 120 | 120 | 120 | 120 |
| Tensile strength, Mpa: | 20 | 20 | 20 | 20 |
| Hardness, Shore A: | 42 | 42 | 42 | 42 |
| Elasticity, %: | 700 | 700 | 700 | 700 |
| Tear strength, N/mm: | 60 | 60 | 60 | 60 |
| Color: | Red | Red | Red | Red |
| Surface: | Smooth/Cloth | Smooth/Cloth | Smooth/Cloth | Smooth/Cloth |
| Availability | Preorder | ON STOCK | Preorder | Preorder |
Minimal order quantity for a products on stock from 1 linear meter